Over the past year, we have researched and shared Best Practices with leading experts in the fitness and medical community to develop a comprehensive reopening strategy. This plan builds upon MPHC's existing high standards of health, safety, and cleanliness.
To minimize the risk of returning members, we will need every member's cooperation in understanding and reinforcing our new safety standards.  This cooperation begins with our updated

Code of Conduct

, which we are requiring all members abide by. There will be extensive new COVID-19 related signage around the club to help guide you.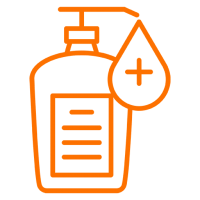 In addition to increased cleaning protocols requiring staff to actively wipe down surfaces, equipment, and other common touch points, we have added the SaniSpray HP 20 technology from Graco for disinfecting large areas of the club. Deep cleanings will occur at least three times per day. Designated areas of the club will be sectioned off during the day to facilitate the comprehensive cleaning. We will also be increasing the size of our housekeeping team and requiring all team members to support these rigorous cleaning protocols.
Medical-grade, EPA-registered disinfectants provided by Santec will be used for all spray-clean processes. This solution is able to disinfect surfaces in under 60 seconds and provides three times more coverage in the same amount of time than traditional cleaning methods.
Every locker will be disinfected after each use and a new "CLEAN LOCKER AVAILABLE" sticker will be placed to let members know it has been disinfected and is safe and available to use.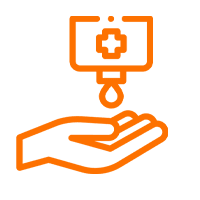 Members will be expected to use hand sanitizer upon entering the club and frequently throughout their visit. The hand sanitizer solution we will be providing kills up to 99.9% of germs and contains Aloe vera, essential oils, and 67% ethanol. This exceeds the CDC's guideline that hand sanitizer should contain at least 60% ethanol to be effective. We have doubled the amount of hand sanitizer stations throughout the club from 7 to 14.
Members will be required to use disinfectant wipes on equipment before and after use as part of MPHC's cleaning protocols. Our disinfectant wipes are approved by the EPA for use against COVID-19 and are shown to kill 99.99% of bacteria, viruses and fungi on equipment while having the safest EPA Toxicity Rating. Disinfectant wipes will be available throughout the club in convenient locations.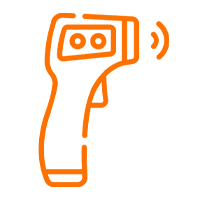 Members and staff will be required to have their body temperature measured prior to entering the club via touchless thermometers. Per CDC guidelines, individuals (whether staff or member) with a body temperature greater than 100.4 degrees will not be permitted entry into the club.
Every member will be required to complete a daily health screening upon each entry to MPHC. This daily health screening can be accessed by using your iPhone camera or Android QR code reader to scan the QR code at the front desk. You must answer all four questions and be approved entry by the front desk staff before your workout.
Members will be asked to alert the club's General Manager, Scott Salmon (ssalmon@mphc.com), if they test positive for COVID-19 within 14 days of their last club visit. We will notify all potentially exposed persons via email if there is a confirmed case of COVID-19 at MPHC.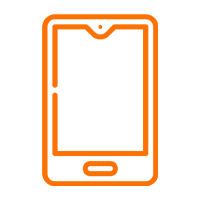 Members participating in the following activities will be asked to reserve a space through the reservations section of our website:
Lap swimming at pool – book a lane to yourself
Family swim – during specific times offered
We require all members with a reservation check in to confirm upon arrival.
Cardio Mezzanine, Training Floor, Quiet Room  will all be available without a reservation on a first-come-first served basis.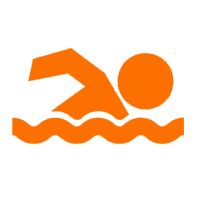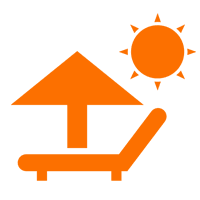 To ensure social distancing, the following measures are being taken; 1)  lap swimming will initially be limited to one person per lane, 2) there will be reduction of chairs & chaises around the pool, 3) aquatic classes will be limited to a maximum of eight participants with the instructor on the deck,  4) family swim participants will be significantly reduced.
All seating will be sanitized continuously with WYSIWASH and disinfected 3+ times per/day with HP-20 sprayers using the Santec product that kills coronavirus.  The pool has continuously been maintained since closing.  Chlorine kills all germs and viruses from spreading in the pool water.  The pool deck shower and one shower in each locker room will be open to ensure members bathe prior to entering the pool
To ensure social distancing, there will be a reduction of chaises outside on the sundeck that will remain in position and can't be moved.  They will be sanitized continuously with WYSIWASH and disinfected 3+ times per/day with the HP20 sprayers using the Santec product that kills coronavirus.  There will be an outdoor shower available for cleaning prior to reentering the pool.
PERSONAL PROTECTIVE EQUIPMENT (PPE)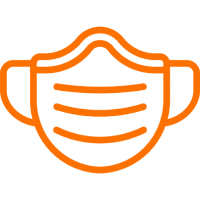 Our team will be provided with face masks, which they will be required to be worn in the clubs at all times.  Based on current CDC guidelines and Governor Cuomo's latest mandate, anyone vaccinated is no longer required to wear masks while in the club.  Unvaccinated members will be required and must continue to wear a mask while in the club.

Gloves will be used by front desk and housekeeping staff. It is recommended (but not required) that members wear gloves during their visit for weight training.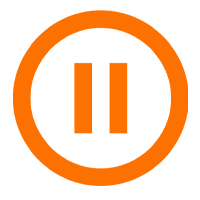 During the initial reopening period, the following areas will be closed: All swim classes, all indoor group exercise classes, whirlpools, steam rooms, saunas, towels, sundeck and sundry items."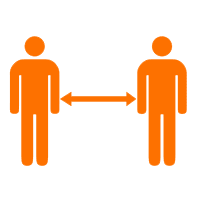 Members will be asked to scan their own ID cards or phone with bar code photo at check-in to eliminate the need to touch anything or hand your card to front desk staff.
New Plexiglass barriers have been installed. They are designed to provide a protective shield between members and the front desk staff.
For convenience and to minimize contact, members will be asked to use their credit card on file when purchasing training sessions or renewing their membership.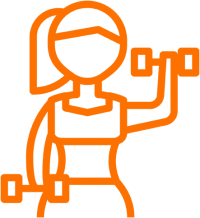 To ensure members and staff maintain at least six-feet of space between one another, physical distancing cues and other hygiene/cleaning protocols will be marked throughout the club.
CARDIO & STRENGTH FLOOR ETIQUETTE
To facilitate physical distancing, we will reduce the amount of equipment available for use. Select equipment will be unplugged and clearly marked to facilitate physical distancing. Time limits may be imposed on equipment during peak hours if necessary.
Members will be asked to practice physical distancing during Personal Training and Pilates sessions. Trainers and instructors will remain six feet away from clients and all cueing and corrections will be done verbally. Virtual Personal Training will continue to be available.
HAVE ADDITIONAL QUESTIONS?